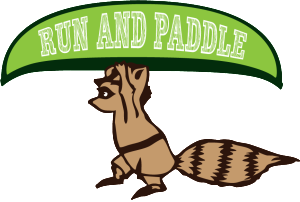 ———————————————————————
Race Recap
The second race in the Run & Paddle Series was held on Sunday, June 7th at the Lakeside Inn in Mount Dora. Racers started on Lake Dora and paddled approximately two miles to Trimble Park on Lake Beauclaire. Here they faced a mystery challenge that involved throwing a golf ball at a cow bell before running 1 1/2 miles on the park trails. The competitors then jumped back in their boats and returned to Lake Dora.
Georgio and Javy of Team Boricuas quickly took the lead after the start and maintained it through the trail run. They finished a minute ahead of Team Coffee in the two-person division. Peter Gelzinis recorded the fastest solo time – 1:14:04. Gelzinis and Team Boricuas have now won the first two races in the Run & Paddle Series. The series finale will be the Run Yak (RunYak.com) on Aug. 15th in Casselberry, FL.
Race Results
Mount Dora Paddle-Run-Paddle Race

Race Results

M-2 (Combined Age 41-80)
1st Place
Dos Boricuas
1:10:33
2nd Place
Canyoneros II – EA Sports
1:21:39
3rd Place
SneakySnakes
1:29:23
4th Place
Defender of White Rice
1:33:11
M-2 (Combined Age 81-120)
1st Place
Team Coffee
1:11:30
2nd Place
Sheriff's Posse
1:18:03
Coed
1st Place
Team Eaglin
1:38:15
Adult / Child
1st Place
Team David
1:36:44
M-1  Senior Division
1st Place
Team Gelzinis
1:14:04
2nd Place
David
1:35:40
M-1  Open Division
1st Place
Mike
1:20:33
2nd Place
Foo
1:22:02
3rd Place
99 Problems. . .
1:28:20
———————————————————————
Run and Paddle Races are a great way to get in a good workout and see spectacular scenery.
In the Team division, racers will paddle one mile from Lake Dora into Lake Beauclair. They will beach their canoes at Trimble Park. One team member will run a two-mille trail run around the park. Racers will then leave the park and paddle back to the Lakeside Inn. Canoes, paddles and PFDs are all supplied.
In the Solo division racers complete all parts of the race (see above). Solo racers must supply their own canoe or kayak.
This event is part of a three-race series sponsored by Travel Country Outdoors. Enter all three races to be eligible for hundreds of dollars in prizes.
For more information contact Rod Price at (407) 227-5606.
[Disciplines involved: Running, Paddling]
Date: June 7, 2015
Location:
Lakeside Inn (map)
100 Alexander Street
Mount Dora, FL 32757
Schedule:
Check In: 8:00AM
Race Start: 9:00AM
Division
Team Race (Combined Ages)
Kayak (Solo) Race
Men
30-79 / 80 and Over
15-39 / 40 and Over
Women
30-79 / 80 and Over
15-39 / 40 and Over
Co-ed
30-79 / 80 and Over
Adult/Child (8-14)
Please print and fill out the FLX Liability Waiver prior to arriving at check in. This will greatly speed up the check in process. One waiver per team member.
Registration:
Early Registration ends on: 05/31/2015
| | | |
| --- | --- | --- |
| | EARLY | LATE |
| Solo | $35 | $40 |
| Team | $70 | $80 |