Family 1 Hour, Sport 3-4 Hour, and Elite 12 Hour Adventure Race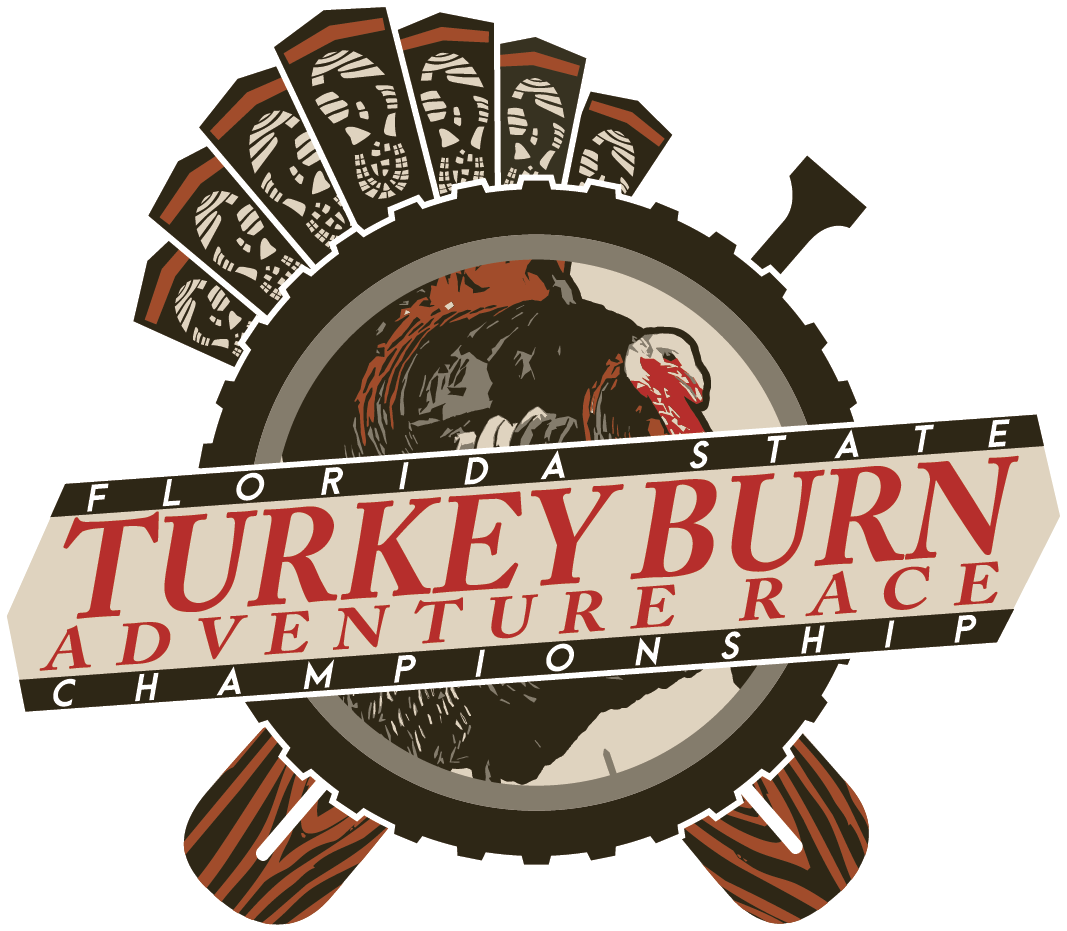 The 13th annual Turkey Burn Adventure Race will take place at Fox Lake Park in Titusville, Florida on November 28, 2015. The Turkey Burn is the longest continuous running AR in Florida. Dave Brault and Jim Feudner have been designing the race course since the race's inception in 2003, and they have always done an amazing job!
For this year's race FLX has rented the large pavilion with seating for up to 1000 people, so every team should be able to have their own, personal, covered transition area.  Bring your family and friends to this race as Fox Lake Park also has a large playground area close to the starting area (less than 200 feet away) along with "real" bathrooms.
The 12-Hour race will have difficult navigation while paddling canoes (that are furnished by FLX Adventures), trekking, and off road biking (some single track, some double track). The race will start at 4:00AM and finish at 4:00PM.  Racers will need lights for the first few hours of the race.
The 4-Hour race will have some tough navigation for those that want to be challenged. While some of those that care for a less difficult course can skip some of the more challenging control points to find the ones that fit their level of fitness.
There will also be a family-friendly 1-Hour race that is suitable for those of almost any age as long as they are with an adult.  This is a fun way to get everyone out in the woods.
[Disciplines:  Trekking, Biking, Paddling, Navigation, Orienteering]
Date: November 28, 2015
Location:
Fox Lake Park (map)
4400 Fox Lake Rd
Titusville, FL 32796
Schedule:
| | | | |
| --- | --- | --- | --- |
| | ELITE 12-HOUR | SPORT 4-HOUR | FAMILY 1-HOUR |
| Check In | 2:30AM | 10:00AM | 12:00PM |
| Pre-race Meeting | 3:30AM | 11:30AM | 1:30PM |
| Start | 4:00AM | 12:00PM | 2:00PM |
| Finish | 4:00PM | 4:00PM | 4:00PM |
| Post Race | 4:30PM | 4:30PM | 4:30PM |
Registration:
Early registration ends: 09/28/2015
Regular registration ends: 10/28/2015 **
Late registration ends: 11/23/2015
** Please note, if you register after regular registration ends, you might not receive a race specific t-shirt.
| | | | |
| --- | --- | --- | --- |
| FAMILY 1-HOUR | EARLY | REGULAR | LATE |
| 3-Person Team | $60 | $75 | $105 |
| 2-Person Team | $40 | $50 | $70 |
| | | | |
| --- | --- | --- | --- |
| SPORT 4-HOUR | EARLY | REGULAR | LATE |
| 4-Person Team | $260 | $320 | $360 |
| 3-Person Team | $210 | $255 | $285 |
| 2-Person Team | $150 | $180 | $200 |
| | | | |
| --- | --- | --- | --- |
| ELITE 12-HOUR | EARLY | REGULAR | LATE |
| 4-Person Team | $360 | $440 | $520 |
| 3-Person Team | $270 | $330 | $390 |
| 2-Person Team | $180 | $220 | $260 |